Loving breeding of Norwegian forest cats
We ( Jeanette and Torben ) got our first norwegian forest cat in the early spring of 2001 - a lovely blue and white male, who is now a happy neuter. He is of course still a part of our family.
We got our name DK Midnatstjernen in january 2002, and our very first litter with 5 lovely kittens was born in april 2003.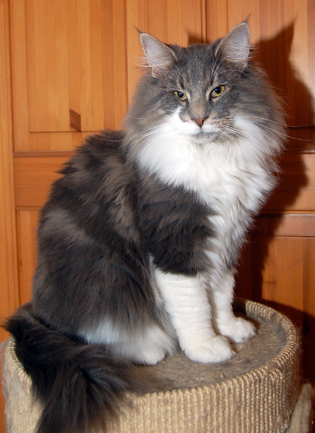 We fell in love with the norwegian forest cat, because we think it is a very beautifull and charming cat. The norwegian forest cat is a lively, alert and strong cat with a very strong will and robust nerves.
We offen show our cat's at FiFe shows in Denmark or in our nabo contries. Next show is in Årslev in Denmark in october 2012.




We are members of Norsk Skovkattering (NSR) and Jyrak (jysk racekatte klub). We have both taken NRS's skovkatteuddannelse. Read more...


You are welcome to contact us by mail jd@aalborg.dk or phone 0045 98 25 77 33


Jeanette E. Dahl & Torben Bang
Haslundparken 17, Vester Hassing
9310 Vodskov
Denmark
Phone 0045 98 25 77 33